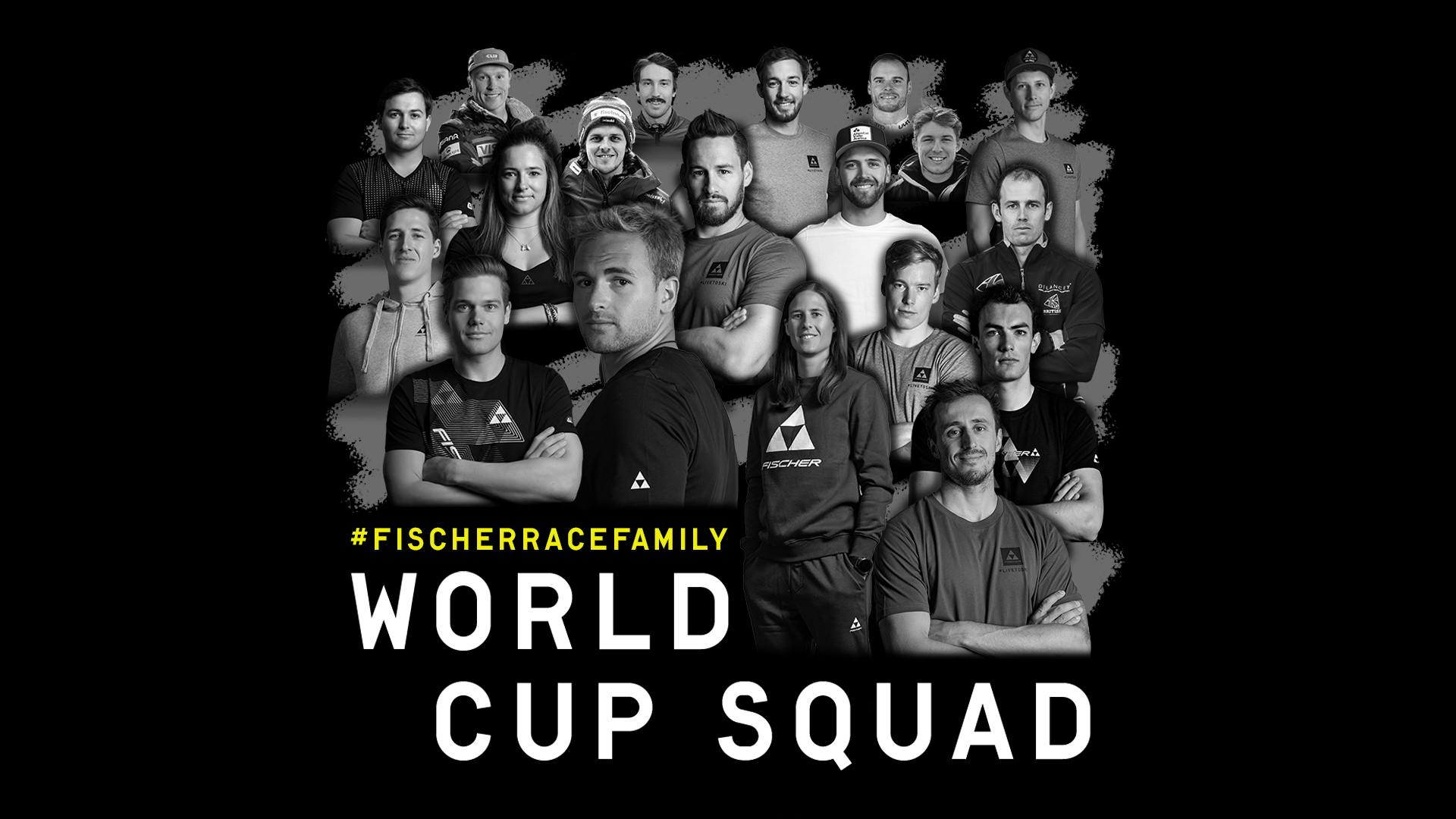 The #fischerracefamily starts into the new season with a balanced squad with athletes for all disciplines. Certainly the chances for podiums are more in the technical disciplines, but also in the speed disciplines we have some really hot irons in the fire. Besides the fact that we were able to keep the existing squad largely the same, we can also welcome two new additions to Fischer.

The first races will be the Giant Slalom World Cup start in Sölden (Oct. 28 & 29), for the women the Slalom in Levi (Nov. 11 & 12) and the Downhill in Zermatt/Cervinia (Nov. 18 & 19) and for the men the Downhill in Zermatt/Cervinia (Nov. 11 & 12) and the Slalom in Gurgl (Nov. 18).

We are looking forward to the new season and hope that together with you we will often have the opportunity to cheer!
Daniel Hemetsberger

23.05.1991
Nußdorf am Attersee, AUT
Downhill, Super G

The Austrian speed specialists started last season with a podium at the downhill in Lake Louise, we'll see if he starts this season just as furiously. The preparation went well and Daniel feels ready to take the next step.
AJ Ginnis
17.11. 1994
Athen, GRE
Slalom

AJ shook up the whole World Cup world with the second place in Chamonix, the silver medal in Courchevel and the almost win in Palisades Tahoe. Will his first World Cup win be due this season? In any case, the likeable Greek will do everything he can without letting the pressure on himself become too big.
Raphael Haaser
17.09.1997
Innsbruck, AUT
Super G, Giant Slalom

The bronze medal at Courchevel was the highlight of his career so far, but the boy from Achensee wants some highlights to follow! A minor injury slowed him down slightly in preparation, but he plans to be fit again for the start of the season.
Daniel Yule
18.02.1993
Martigny, SUI
Slalom
What a season 22I23 from the big Swiss guy. A win in Madonna (as nearly always), a win in Kitzbühel, a podium in Levi and a Podium in Chamonix led to a strong 4th rank in the Overall Slalom World Cup! We hope he keeps it up this season.
Ricarda Haaser
10.09.1993
Innsbruck, AUT
Giant Slalom, Super G, Downhill
Ricarda won the bronze medal in Courchevel, just like her brother! But the quiet Tyrolean wants to really let it rip on the courses this season and has trained harder in preseason than ever before.
Dave Ryding
05.12.1986
Chorley, GBR
Slalom
Our British routinier is always in for a surprise and a party, so he was in Kitzbühel in January 23! With Daniel Yule as 1st and Dave Ryding as 2nd he gave us a yellow party at the Hahnenkamm! With a podium after Christmas, he could become the oldest podium winner in World Cup history. So fingers are crossed!
Stefan Brennsteiner
03.10.1991
Zell am See, AUT
Giant Slalom

The Austrian GS specialist is part of the Ski Austria A-Team since 2017. The gold medalist of Peking 2022 in the team competitions was often very close to the podium last season and wants to attack it again this season. He is said to have one of the most beautiful turns in the giant slalom field, let's see if he can translate that into countable results this season.
Katharina Huber
03.10.1995
Leoben, AUT
Slalom, Giant Slalom
The gold medalist of Peking 2022 in the team competitions competes in the disciplines Slalom and Giant Slalom and will start into the season 23I24 at the World Cup opening in Sölden.
Stefan Rogentin
16.05.1994
Lenzerheide, SUI
Super G, Downhill
The Swiss speed specialist celebrated his greatest success at last year's Super G in Wengen, where he sensationally finished in 2nd place. His goal for this season is definitely to build on this performance.
Bryce Bennett
16.07.1992
Truckee, USA
Downhill, Super G
The california-based speed athlete Brye Bennett is part of the US team since 2011 is definitely very looking forward to the Val Gardena stop of the World Cup, where he was able to celebrate a sensational win back in 2021. And he will also be very motivated for his home World Cup in Beaver Creek/USA right at the beginning of December.
Kristoffer Jakobsen

09.09.1994
Boden, SWE
Slalom
The Swedish powerhouse is known for taking full risk in every run. As a result, Kristoffer likes to drop out sometimes, but when he does finish, it's usually with a very good time! We keep our fingers crossed that Kristoffer will be rewarded for his willingness to take risks this season.
Sam Morse

27.05.1996
Carrabassett Valley, USA
Downhill
Sam surprised last season with a strong 10th place in Gardena-Gröden and an equally good 14th place at the World Cup in Aspen and certainly wants to top those results this year.
In addition, we have with Fabian Gratz (GER), Luca Aerni (SUI), Noel von Grünigen (SUI), Urs Kryenbühel (SUI), Fadri Janutin (SUI), Billy Major (GBR), Giuliano Razzoli (ITA), Steven Amiez (FRA), Loevan Parand (FRA), Simon Fournier (CAN), Charlie Guest (GBR), Lisa Hörnblad (SWE) and Neja Dvornik (SLO) further strong athletes in the squad, who are always good for a top result and a surprise. This squad will certainly be strengthened by situational assignments of young talents from the B squads, such as Nina Aster (AUT), Simone Wild (CH), Livio Hiltprand (CH) or Corrado Barbera (ITA).

We wish everyone a good start and an injury-free and successful season!
The new signings
This season the Race Direction was able to sign two new athletes for the #fischerracefamily World Cup Squad. We introduce them to you in more detail.
Simon Maurberger

20.02.1995
Sand in Taufers, ITA
Slalom, Giant Slalom
The south tyrol based Italian Simon Maurberger is part of the Italian National Team since 2014 and wants to give his career another push with the move to Fischer. We wish you a good start on your new yellow skis, Simon!
Dominik Raschner
23.08.1994
Innsbruck, AUT
Slalom, Giant Slalom
Back on Fischer the parallel slalom specialist Dominik Raschner is ready to start into his 9th World Cup season. His biggest achievement so far was the silver medal at the last World Championships in Courchevel 23.