Written by Torey Lee Brooks
Photos and Video: Eastern Adventure / ovrlnd.studio
I don't know if skiing is what first inspired me to be an environmentalist, or if my love of this planet sparked my passion for wild ski adventures. I suppose the order of things doesn't matter. In this journey, they were equal partners in my quest to ski the entire length of Vermont.
"Couldn't you do this in a more… comfortable way?" one friend asked after I revealed to her I intended to ski the trail solo, sleeping most nights in a tent, and pulling my essentials behind me in a sled.
"Sure, but that's not what I'm after" I replied.
To me, solo Nordic backcountry skiing is the epitome of "thinking space." The snow under my shuffling skis is the perfect white noise, the crisp air against my face keeps me awake and alert, the dappled sun and my heartbeat faintly pounding in my ears lulls me into a trance. It's like runners high, but way, WAY better.
On normal days, I only get to enjoy this for a few sweet hours before I start work or make dinner. Naturally, I concluded that experiencing this for weeks on end could only mean one thing: Bliss.
I was (mostly) right.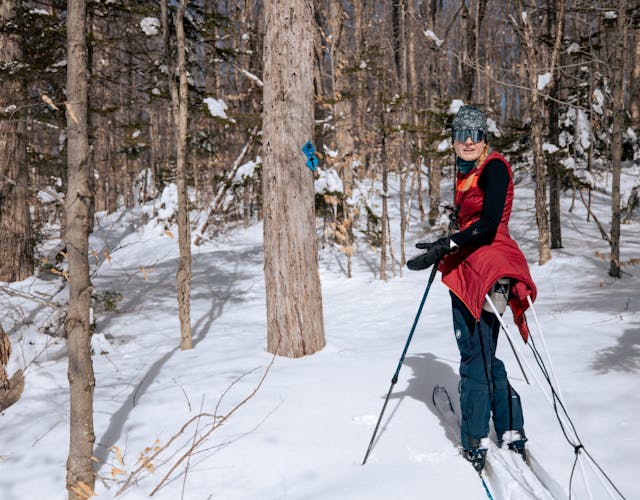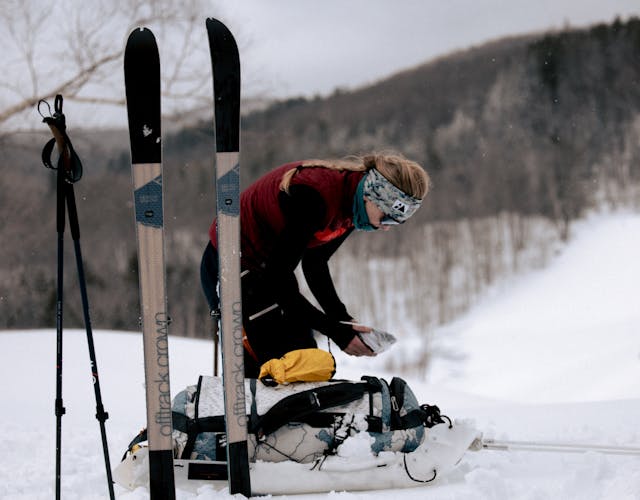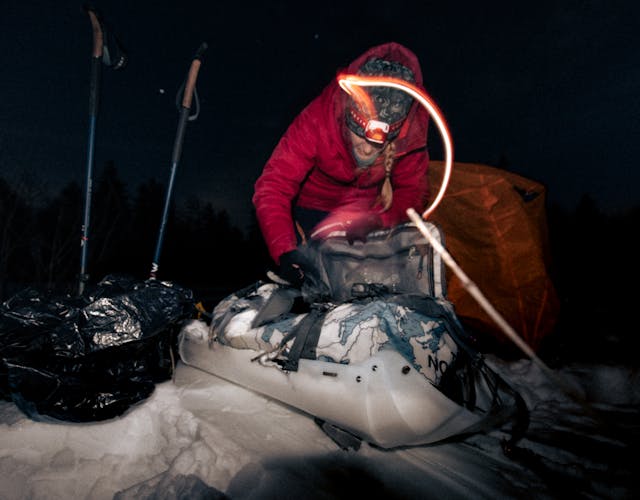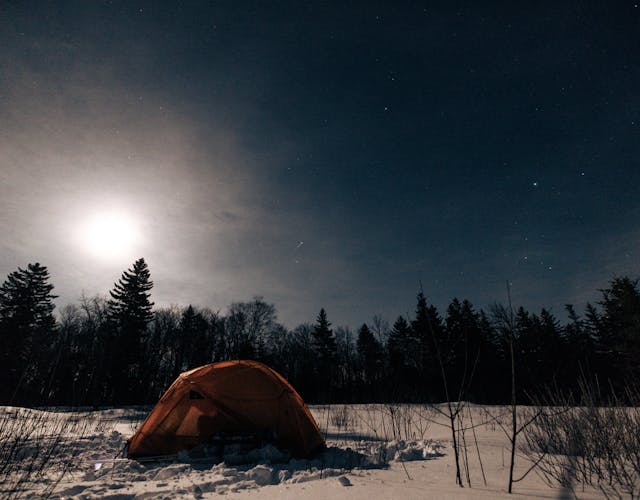 Despite its "quaint" reputation, New England is also known for its unpredictable and brutal weather patterns. It is not uncommon to see multiple forms of precipitation, a bitter cold snap, and a freeze-thaw event all in the same week. This has only become more extreme due to human-caused climate change, and this trend is working against optimal ski conditions as winters are getting wetter and warmer.
To face the inevitable weather conditions for my trek, I started first by sourcing the right gear. Of course, I needed layers, food, water, and an extra warm sleep system, but the most pivotal gear was strapped to my feet: Ski boots made for traveling long distances and designed to keep my feet comfortable and dry, versatile skis with full metal edges to simultaneously glide and provide stability while navigating steep ungroomed downhills, and durable... well, everything needed to be durable.
As the gear arrived and the collection of trail maps marked with resupply points began piling up, one driving question kept creeping into my mind: If I don't do this now, will the Catamount even be skiable when I'm "ready" to?
With multiple low-elevation sections of trail and the abysmal New England winters of the past few years, it was starting to feel like the window to complete the trail in a continuous push was closing, and possibly for good. To me, this thought was significantly more uncomfortable to sit with than many cold and lonely nights in a tent.
But just like wet feet, a few faceplants, and a multitude of harrowing and hilarious hang-ups, it was a reality I had to face on my winter adventure along the Catamount Trail. I would have to take the physical challenge head-on, along with the tough reality of our changing climate. I was going to have to choose discomfort* the entire way.
And that's exactly what I did.
I chose the discomfort of pushing my body in an effort I was never sure I could complete.
I chose the discomfort of telling an imperfect story about our society's climate journey.
I chose the discomfort of sharing my personal journey with the world in the name of change.
This is that story.
I hope it inspires you to both find adventure, choose blissful discomfort, and help us rewrite the next chapter of a more sustainable future.
300 Miles Melting: Skiing Vermont's Catamount Trail in a Single Push
Read More: Sustainability at Fischer
*One caveat to this discomfort was the fact that somehow, over the 317 miles I skied, I managed without a single blister and finished with all 10 toenails intact. If this is not the best testimony you read for a piece of gear, I don't think there is anything else I could write to convince you.