Congrats to our winners and happy new year!
How to participate in First on First 2021
Different times demand different measures. That's why this year it's easier than ever to join First on First.
Follow those simple steps for your chance to win one of ten great Fischer Alpine packages:
Go and look for the Fischer First on First AR-Filter on Instagram:
Option 1: Head over to our Instagram profile @fischerski and click the link in our bio. Then click on "First on First Filter" and you can immediately use our filter.
Option 2: Go to your Instagram camera and scroll to the end of all the filters to where it says "Browse Effects." When typing in "Fischer Sports" our filter will show up. Simply click on it to use it for your stories.
The filter will be available from December 31st!
Post a photo or video story on Instagram using the Fischer AR-Filter on new year's day and show us that you are the First on First.
It doesn't matter if you are on the slopes, walking uphill with your touring skis or skiing down the fresh powder. What we want to see is commitment and passion for Alpine skiing.
Tag us in your story with @fischerski and use the hashtag #firstonfirst
Highlight your story in your profile and make sure your profile is set to public, so we can see your story.
That's it. Show us your love for Alpine skiing and join the Fischer Team on 1st of January 2021.
We're excited and looking forward to seeing the videos and photos you'll post to your Instagram story using our AR filter.
How to take part in the Fischer Alpine #firstonfirst
What you can win
Take part in First on First 2021 for a chance to win one of 10 Fischer Alpine packages. Here's a closer look on what you can win: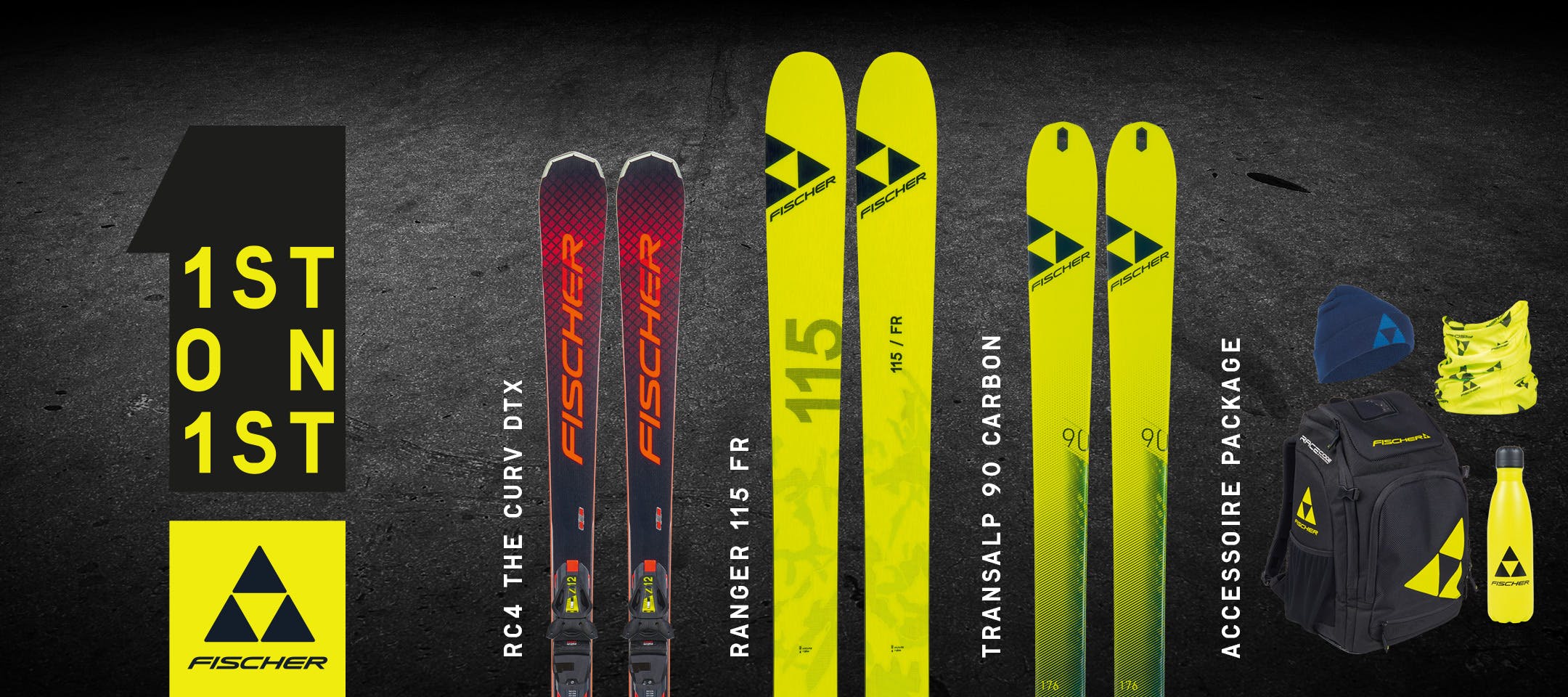 Terms & Conditions First on First 2021
The competition runs on January 1st 2021 and is open worldwide.
Participants must be at the age of 18 years or above.
Ten Fischer Alpine packages (5 pairs of skis incl. bindings, 5 accessories packages) and ten Fischer Nordic packages (5 pairs of skis incl. bindings, 5 accessories packages) will be raffled among all participants on Instagram.
Participants enter the competition by posting an Instagram-Story using the Fischer First on First AR-filter, tagging @fischerski or @fischernordic & using the hashtag #firstonfirst. The story must be added to the story highlights and the profile must be public.
By using the First on First AR-Filter on Instagram and tagging @fischerski / @fischernordic in the story the participants automatically agrees to these conditions of participations and enter the prize draw. They also agree that Fischer Sports GmbH is allowed to download and use the content for advertising purposes.
Twenty winners (ten on each Instagram account @fischerski / @fischernordic) will be randomly selected within 7 days of the end of the competition.
The winners will be notified via Instagram's messaging function.
The winners will receive the prize via mail. The prize cannot be exchanged for cash or transferred to another person.
The organizer of this prize draw is Fischer Sports GmbH. This competition has no connection to Facebook, Instagram or Twitter and is in no way sponsored by Facebook, Instagram or Twitter.
All provisions on data protection (point 8) according to the Privacy Policy apply
a. DE: https://www.fischersports.com/at_de/privacy-policy
b. EN: https://www.fischersports.com/privacy-policy
The organiser reserves the right to stop or cancel activities at any time in the event of any irregularities. This applies in particular to events whereby the competition cannot be carried out properly due to technical (e.g. computer viruses, manipulation or unconscionability) or legal reasons.