At Fischer, RC4 stands for the pinnacle of performance and design at the highest level and has done so for many years. For season 23I24, Fischer introduces an entirely new series of race/performance boots under the RC4 label. Race-level Performance for All!
But what makes these boots so special?
The RC4 boot line offers all-day control and power transfer for ambitious skiers seeking to reach the next level. RC4 ski boots are available in three different last widths that have been perfected with FISCHER Scan-Fit® data of hundred thousands of foot scans to allow every passionate skier to find the perfect boot. Innovative performance features include BOA® Fit System, ZipFit® Innerboot, CARBONFUSED Cuff, Adjustable Forward Lean, and Floating Entry flap. The well known and proven VACUUM shells are also incredibly customizable and allow you and your bootfitter to find the perfect fit for every individual foot shape. If you want to level up your skiing, there is no way around the new RC4 powerhouse.
Brand new: BOA® H+i1 system
Developed over the previous three seasons, we integrated the game-changing BOA® H+i1 system into our top-of-the-line RC4 MV performance boots. The feedback we received from our testing partners is overwhelmingly positive. The Dial System wraps the foot perfectly, is easily fined-tuned/adjusted, and provides an incredibly secure fit and all-day comfort.

The only true high-performance-focused boot in the new family of BOA-equipped boots available in 23I24, The BOA® H+i1 is integrated into our RC4 Pro MV, RC4 130 MV, RC4 120 MV, and RC4 105 MV models. So don't miss a chance; try one of our boots with the BOA® H+i1 system and see for yourself.
Brand new: ZipFit® Inner boot
No longer only available from premium boot fitting specialty shops as a separate sale. The Fischer RC4 Pro LV and the RC4 Pro MVZipFit® are the first-time Zipfit liners available in a production boot. The Zipfit inner boot is a fully customizable corked-filled performance liner with unmatched fit and long-term durability, often outlasting the shell they are used in. The Zipfit inner boot is included with the RC4 Pro LV and MV boots offering the pinnacle of performance for skiers who want the best.
RC4 Pro
RC4 PRO MV is a high-performance boot packed with ALL the latest technologies. A ZipFit® liner guarantees heel lock and ample circulation to toes, and the MV boot comes with the BOA® H+i1 system to wrap the shell to every foot shape. CARBONFUSED cuff offers even more direct power transfer. To ensure an optimal fit for most skiers, the RC4 MV boots have a FISCHER Scan-Fit® last, developed with data from over a hundred thousand foot scans.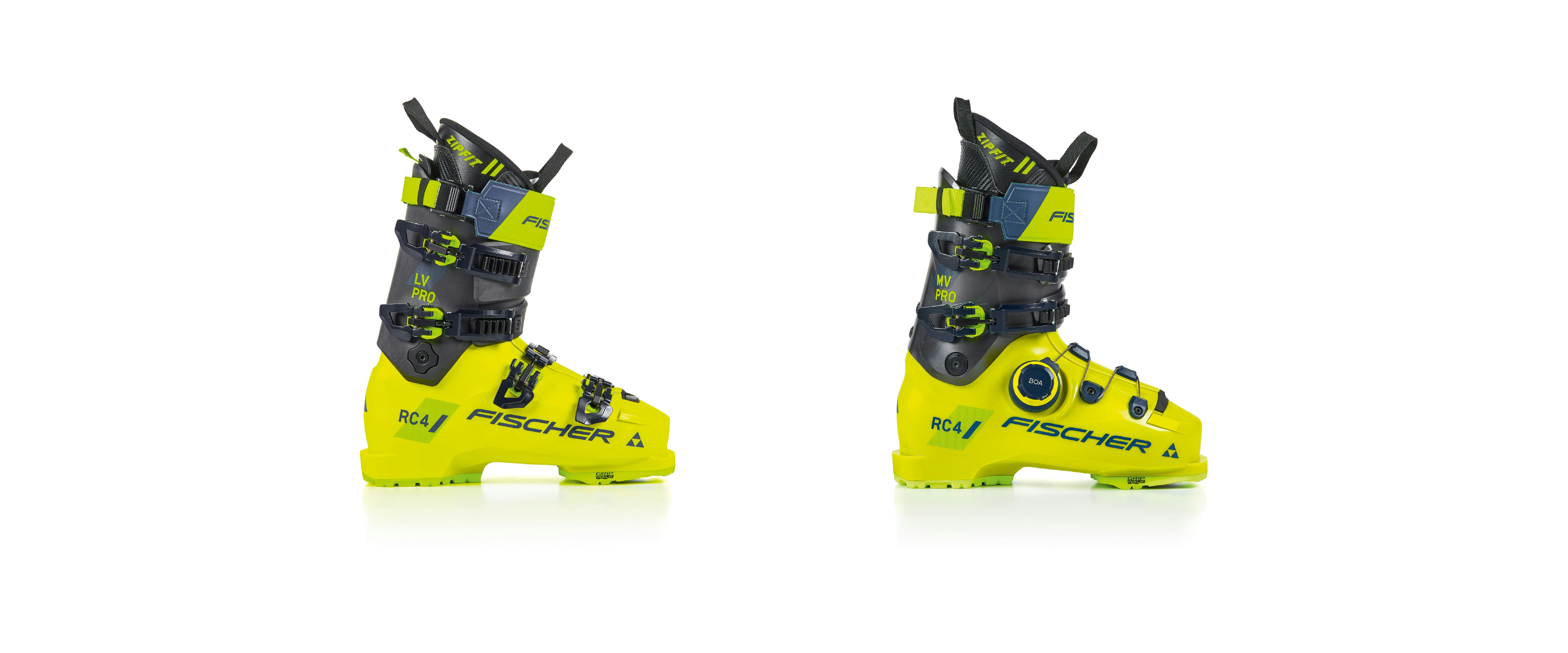 RC4 LV
The RC4 LV boots are high-performance boots with a secure, narrow fit. Through all different flexes from 130 to 95, the boots come with GripWalk® soles. The RC 120 LV can be tuned with forward-lean adjustment, and the iFZ Performance liners guarantee the best PerformancePerformance. The RC 95 LV is great for slim feet with a comfortable and warm Primaloft®.



RC4 MV
The RC4 MV boots are the perfect boots for medium sized feet. The RC4 130 MV, the RC4 120 MV and the RC4 105 MV come with the brand new BOA® H+i1 system, which guarantees a secure fit and accomodate a wide range of individual foot shapes. GripWalk® adds security and convience across all ski day conditions.


RC4 HV
The RC4 HV boots are classic performance boots for all skiers with wider or higher volume feet. The range of flexes goes down from 130, 120, 100, 95, 90 to 85. While the RC4 120 HV has the lightweight VACUUM shell, all boots of this range impress with outstanding control and comfortable toe areas.

Developed with and proven by our athletes
Are you ready to step up your boot game?
We're pretty sure if you once tested one of our new RC4 boots, you'll never want to ski any other performance boot again. So what are you waiting for? Take yourself to the next level with an RC4 High-Performance boot and let yourself be impressed by its incredible performance.
You can decide between different flexes, widths and closure systems; there is the right boot for every skier!