Comfort is luxury. Feel and experience nature. See the stars above you after a day in the middle of nature, surrounded by the endless vastness of Scandinavia and the snow-white hills of the Arctic.
No matter if the sun warms your back or the wind whistles the snow around your ears. Adventure awaits us. In spring 2022 the premiere of the Fischer TRANSNORDIC took place. From over 500 applicants around the world, five hade been chosen to traverse three countries in five days on backcountry skis living the experience of a lifetime. More about TRANSNORDIC
The Adventure models from Fischer were there at the starting line. It's not just their design that impresses: even though they are noticeably much lighter, they have retained their rugged durability throughout the development process which involved everything from long winter tours to expeditions into the great unknown. That's how they've already provided a select few winter adventurers indescribable experiences and then escorted them safely home.
Ready for any terrain
Offtrack Crown is the universal-use climbing aid for ungroomed trails. However, when the going gets really steep, and in certain snow conditions, it can reach its limits. That's where Fischer Easy Skin or even Super Skin are called into action. Both are easy to affix, so any backcountry destination can be reached and those winter adventures can be completed safely.
TRANSNORDIC 66 Easy Skin Xtralite
An absolute classic among backcountry models has a new name: TRANSNORDIC 66 Easy Skin Xtralite. This proven favorite expedition ski also has a new, lighter wood core for easier ascents and control with the same level of durability. Fischer Easy Skin attaches quickly to make this wax ski a real climber. The classic narrow shape and steel edges make this a reliable travelling partner on everything from expedition conditions to touring in moderate terrain.

Spider 62 Crown Xtralite
Take your skiing further with the versatile Spider 62 Crown Xtralite. Designed for use on or off-track, the addition of full-length metal edges provides an extra element of control and comfort. A light, air channeled wood core enhances stability, durability and edging, while the Offtrack Crown pattern offers a great blend of grip and glide in a wide range of conditions. Mid-length sizing provides skiers with increased control and maneuverability for an easier skiing experience.

S-Bound 98 Crown / Dual Skin Xtralite
The S-Bound 98 Crown / Dual Skin Xtralite offers the perfect blend of turning and touring for limitless backcountry adventures. The lighter Paulownia wood core improves efficiency for touring, while the deep sidecut and Nordic rockered tip make turning easier. Dual Skin compatibility now allows the Offtrack Crown pattern to be supplemented with either a mid-base Easy Skin 65, or full-length Super Skin. Designed to attach quickly, your steeper climbs can be tackled with ease.

Adventure boots
The integrated gaiter of the technically oriented OTX models impresses right from the start by offering optimal protection from snow and cold. There are also reinforcing inserts in the ankle area for better off-track stability. Safety and ease of walking were also key considerations, both enhanced by a wide, non-slip sole. This is, very simply, the ideal model for heading out into untouched snow in hilly terrain.
The BCX models, on the other hand, prefer things to move a little faster. Their pure, straightforward designs might look quite traditional, but there's a whole lot more to them. The premium models all use natural leather. A sock construction is used to make them 100% waterproof while remaining breathable. The high-cut upper provides extreme stability, even on steep downhills, and is further supported by an improved lacing arrangement. There are models available with three different sole standards, so the right tool is available for every job.
BCX Grand Tour
Explore further with the comfort, durability and skiability of the BCX Grand Tour. Featuring a high cut leather upper, improved lacing, and a BC system sole, this boot handles the up and downhills with ease. All day comfort is a must for longer excursions and the combination of a water resistant breathable liner and Comfort Guard insulation will keep feet warm and dry for the long haul.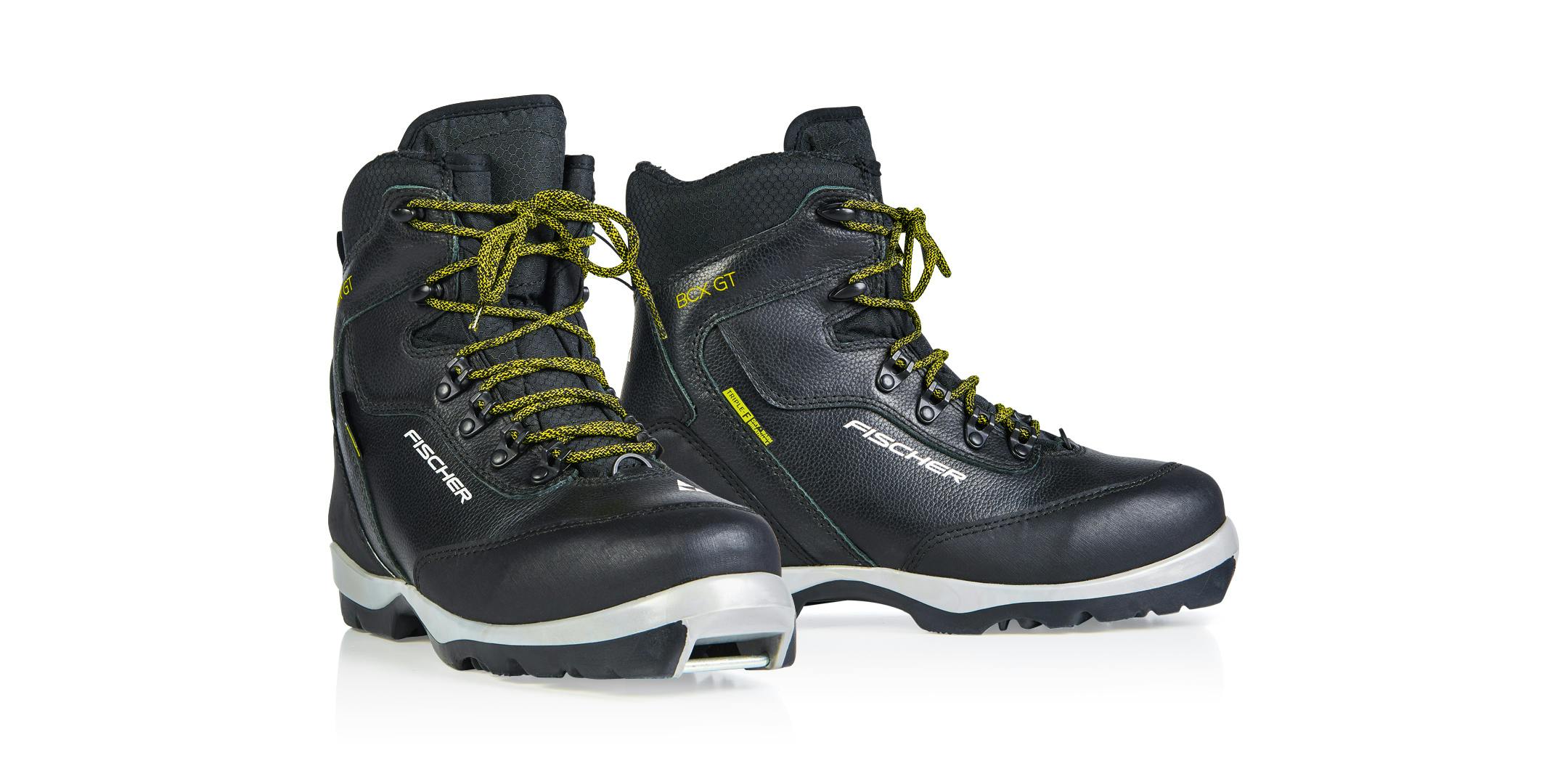 OTX Adventure
Add more control to your next outing with the versatile OTX Adventure boot. Intended for use on and off track, the wider profile TURNAMIC® Easy Walk sole and hinged 3D-Cuff provide more power to the ski than standard touring boots. Additionally, deeper snow and colder temperatures are no match for the integrated gaiter and Comfort Guard insulation.