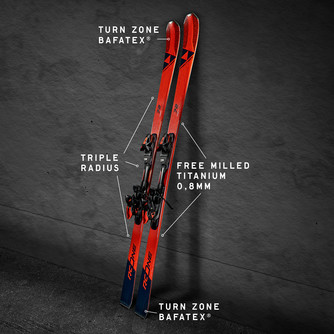 These skis effortlessly master the challenges of a variety of different terrain with maneuverability and agility that bring you that much closer to achieving perfect technique.
The Turn Zone gets things moving with light but strong BAFATEX® in the blade and tail to reduce weight. This makes all the RC One models nimble and responsive. These skis are also well-balanced for dynamic turn initiation that sets your passion free for whatever type of skiing you enjoy.
This new reduced weight combined with Triple Radius shape make these models especially versatile and fast reacting, so you're always in control. Sophisticated use of materials like Titanal offers stability, safety, and an extremely smooth ride for high speed descents on hard slopes.
The RC One collection was developed with the goal of making every skier not just better, but just maybe legendary.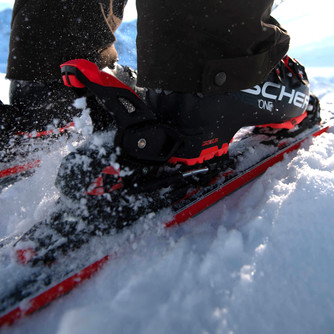 The Ranger One also impresses with its amazingly minimal weight, which is the ultimate performance advantage when you're deep in powder or setting a bootpack to reach the powder. Whether you're climbing in snow, or just crossing an icy parking lot, the integrated ski/hike lever with its generous range of motion allows an easier, more natural stride, while GripWalk soles offer superior traction. It's the performance you need, with the unbeatable comfort you'll love.
Floating Entry tongue design makes getting in and out of the Ranger One easy and convenient, even in harsh cold. The lower shell is highly customizable with Fischer VACUUM to let you enjoy every minute of the day on the mountain with no pressure points and a fit that is the optimal blend of performance and comfort.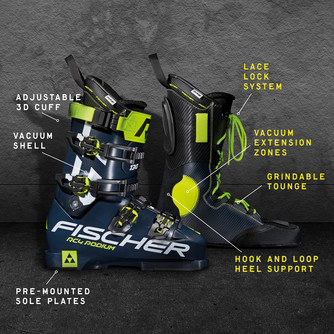 To ensure maximum power transfer, the anatomical shell and liner design provides a secure, high-performance fit through the heel and midfoot, with a wider 96mm last to provide more comfort in the forefoot.
The focus of Podium GT is its excellent, satisfying First Fit. Then Fischer's patented VACUUM moldable shell, thermoformable liner, and the easily customized padding of the Grindable Tongue for optimized ankle fit all offer an even more precise, custom fit and alignment that are normally reserved for World Cup athletes.
The fit of Podium GT is only half the story. The cuff can be rotated and repositioned in three dimensions. So, no matter what your foot and leg shape is, you can precisely match this boot to your own anatomy. All sole pads are premounted so this boot is ready to go.
Excellent individual performance demands excellent individualized fit, making the Podium GT where top speed begins.
Scan-Fit® offers a digital solution for determining correct boot sizes in the comfort of home, and also provides users a range of valuable new information about sizing: The app determines detailed information about the user's individual foot dimensions, as well as clarifying the often confusing Mondopoint sizing system.
The advantages of Scan-Fit® are not limited to just winter athletes. A reliable size recommendation can mean a significant reduction in the number of returns, a real benefit for retailers and for the environment. FISCHER also benefits from this new scanning process by gathering valuable data about the dimensions of athletes' feet, which will be used in future boot projects.
FISCHER Scan-Fit® has been available since December 1st, 2018 and can be downloaded from wherever apps are available or downloaded.