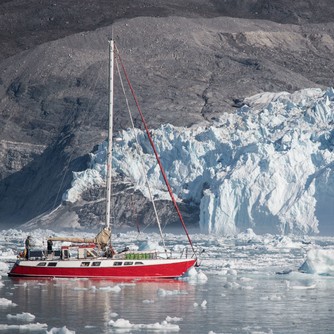 It was a hard piece of work to reach Greenland. At the beginning of July 2018 I left with Stefan Glowacz and Philipp Hans for our Coast-to-Coast-Expedition "by fair means". We drove from Munich to Scotland in two electric cars, gradually adapting to the slow pace of progress. For example, we optimized our time management by sleeping when the batteries needed a charge of electricity on the way. The situation became more challenging when we landlubbers were at sea. On board the sailing boat "Santa Maria" we set course for Greenland, via Iceland to the west coast of Greenland. It took many days until we were ready to cover a shift on deck on our own. Not to mention how we survived stormy days with meter-high waves, kept the nausea at bay and got used to the eternal loneliness on the water.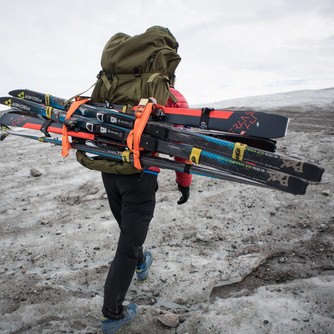 34 days after leaving the Scottish coast Skipper Wolf dumped us on the Greenland coast and we started to drag all our material onto the inland ice - a strenuous and boring back and forth. But "by fair means", we had learned so much in the meantime, means not only being slow but also autonomous. No departure times at airports determined our actions, no poker on available heli-places or bus timetables - only our rhythm set the pace. That must have been how it was on the expeditions of yore!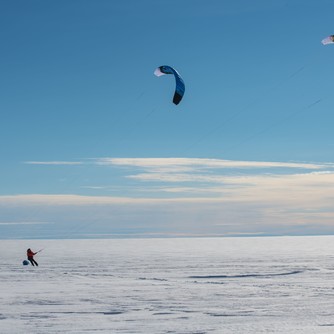 As always, the weather played an important role on the ice sheet. We had caught a summer that was cold even by Greenlandic standards and in the first two weeks there was hardly any wind. Like snails we sneaked over the ice, on our skis and with the heavy sledges in tow. It was difficult not to lose our motivation. We also learned that our skipper had been delayed due to injury to a crew member and storms, and we were worried if he would arrive on time at the east coast. But then came the day when we could ride 125 kilometres across the ice with the kites. All around there was nothing but ice and snow while we were flying at high speed - a fantastic feeling. The sheet was turned, we moved forward, found a descent from the glacier to the coast and finally even the Santa Maria arrived, pretty much to the day when our food supplies were exhausted.
I could rely on my Fischer skis one hundred percent, no matter how slowly I went, step by step, or whether I was kiting across the ice at 30 kph.
Yours Thomas Ulrich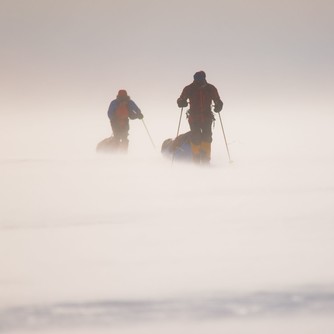 Facts & Figures:
Drive with an electric BMW to Scotland
By sailing boat from Scotland via Iceland to the west coast of Greenland
Crossing Greenland from west to east with skis and kite (1000 km)
Sailing trip Greenland east coast back to Scotland
Return journey with electric car
Duration of the expedition: 3 months