We have already said goodbye to Nici Schmidhofer in detail after her last World Cup in Andorra. Now the likeable Austrian has once again made the trip to the headquarters and factory in Ried to say a proper thank you and farewell to the staff.
We took the opportunity to ask her a few more questions about her career and here connection to Fischer.
Read more for some insights: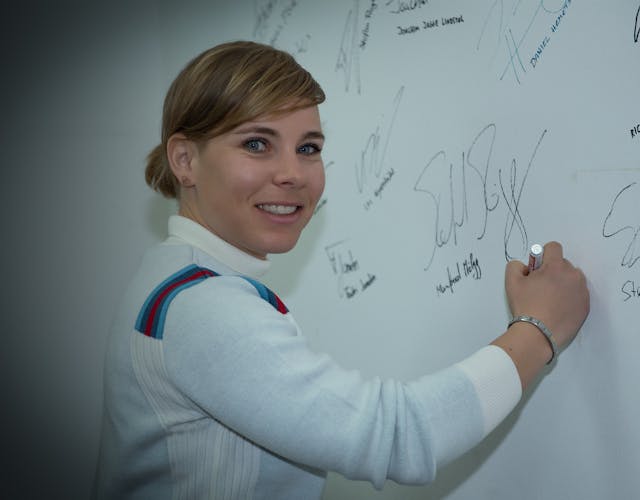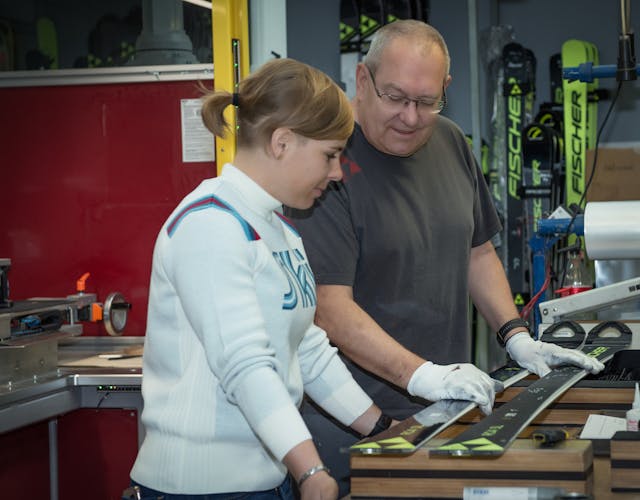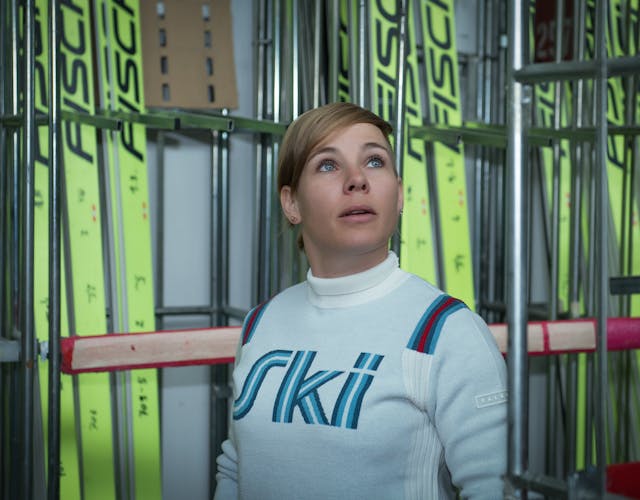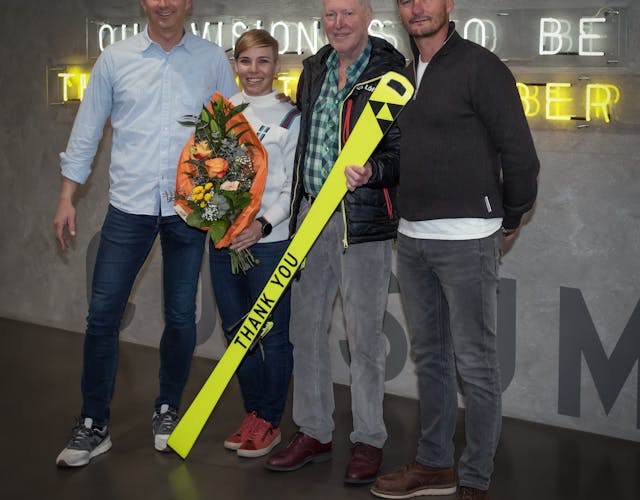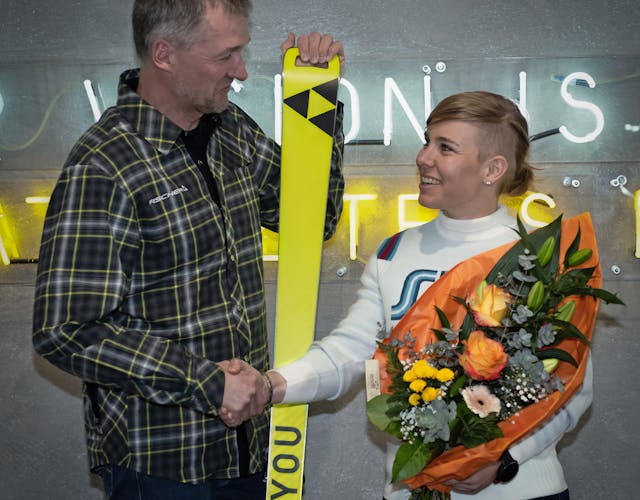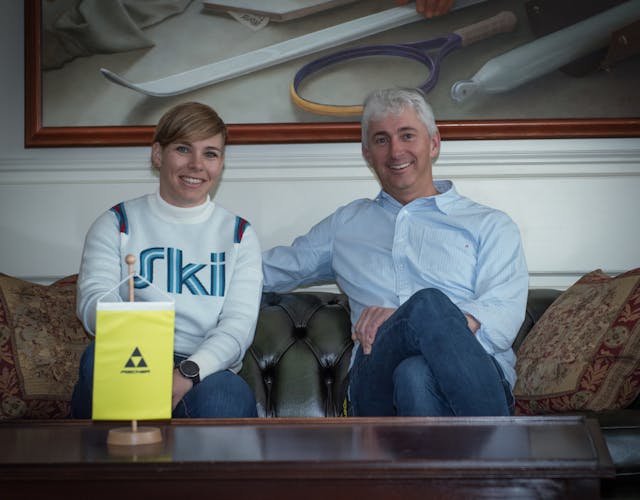 10 Questions to Nici Schmidhofer
1. What finally made you decide to end your career at the end of this season?

In the end, I have to say it's simply health. My knee has become really good in the meantime and I don't want to risk that anymore, also because I don't know if I can put away such an injury again. In the last few months I have realized how exhausting it was and how much I put in and also how lucky I was that everything went so well. I currently have the best case scenario that I can do anything. No one would have believed that and I couldn't go through another rehab like that again. And also in skiing it was increasingly the case that I no longer risk the last shirt, rather take the pace out and therefore of course can no longer ski at the very front. But I am very happy with the decision and look forward to everything that comes.
2. How did you get into skiing and at what point did you know that the path to professional skiing was possible?
I learned to ski at the age of 2.5 years in my homeland in the Lachtal, we had a ski hut directly on the slopes. So I had almost no choice, my sister is still hostess there in the ski hut and Cafe Hannes. I started racing quite late, only at the age of 9. My dream of becoming a professional skier was actually not that big. I just loved skiing and still do. It's simply one of the best sports there is! I actually wanted to become a fitness trainer or a masseuse, I also chose the corresponding school branch and didn't go to any ski-specific school. During my time at the technical school, however, it became clear that I would go in the direction of skiing. I was then promoted to the Styrian provincial squad, we briefly considered me going to Schladming, but then decided to go the less classic route in cooperation with my technical school. At 15, the decision was then clear that I would go into professional racing and without the support from all sides, it probably wouldn't have been possible in this constellation.
3. What would you say was the absolute breakthrough in your career?
I've had so many ups and downs that it's a little hard to single out a certain phase now. But it was probably the world championship title after my cruciate ligament injury that really made me one of the best and also changed my mindset a bit. It gave me a lot more confidence in myself and my ability.
4. Which of your successes would you classify as the most important? Which one means the most to you?
The most important success was certainly also the gold medal at the World Championships. To be able to call yourself world champion is a privilege and there are few who can say that about themselves. The success that means the most to me was the first ski day after my injury in 2021, where everyone said beforehand "Nici, if you can walk normally again, we'll be happy. But we are not talking about skiing". Just under 10 months after the serious fall in Val D'isere, I was back on skis for the first time and reasonably pain-free. That was incredible for me and certainly the day in my career that I would single out the most emotionally. It made me very proud of myself and my team.
5. What will you remember most fondly in 20 years time when you think of your career?
What I'll remember most fondly are the many friends I've had the privilege of meeting during my career, the many parties and the good times, the many places I've been able to see. It's not something that can be taken for granted to experience in such a short time. I will also always look back fondly on the medals and World Cup victories, the World Championships and the Olympic Games. I will look back on my entire career with the awareness that it is a great privilege to have been able to experience something like this.
6. What will you miss about professional skiing, but what are you glad to be rid of?
I will miss being on the road a lot, seeing new countries, getting to know new places, being on the road with my girls, pushing myself every day and the feeling of speed on the slopes. I'll probably really miss the latter, the feeling of a really fast turn on the downhill is just indescribable. 
What I won't miss is the pressure of racing and performing, and missing family events and birthdays. Hopefully I'll be able to make up for that.
7. When did you first come into contact with the Fischer brand?
I only came to Fischer in the middle of my career. Fischer is a big brand, everything in my home country was Fischer with the exception of my ski club. That also meant that I was on a different brand for the first time. I have a lot to thank Fischer for, in 2013 after the World Championships in Schladming the Fischer company took me in and I still thank the Lord God today for bringing us together. The ski company and the brand suited me much better than I could have imagined.
8. When did you sign up with Fischer and what were the decisive reasons for doing so?
As mentioned above, I had signed in 2013. The skis have made it possible for me to ski with a lot of feeling, which suits my skiing style very well. I was also impressed by the speed of development and the possibilities to implement feedback. I also find the fact that it is a family business very special and I hope it stays that way.
9. How would you describe your partnership with Fischer?

I owe a lot to the company. I think if we hadn't come together back then in 2013/14, my career wouldn't have gone the way it has now and I'm very grateful for that and I'm glad to be part of the Fischer Family. The cohesion among the Fischer athletes has also always been unique, the support among each other and the whole construct has been a lot of fun.
10. What is your plan for the future?
The plan is very broad, I have a lot of ideas but nothing definite yet. The ideas are very different and can not be brought under one hat, but I will remain in skiing in some form. I would like to attack again in the Speedski, still I hold also the Austrian record with 217km/h. Maybe I can push that towards 230/240km/h, I will definitely focus on that in the coming year. I would also be very interested in commentating on ORF, which would be great for me. Also because of the proximity to the race tracks, which I already miss. My experiences through my career and my injuries can also be inspiration and motivation for many, so I would like to pass on my experiences in the form of lectures or the like.