Melissa Presslaber
Austria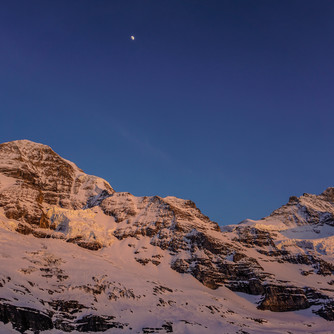 It's off to Grindelwald together with a friend of mine. The famous triumvirate Eiger 3970m, Mönch 4107m and Jungfrau 4158m are already glowing for us in the distance. To save ourselves the long hike we treat ourselves to the train ride to Kleine Scheidegg and then on to the Eigergletscher station at 2320m. This is where we pitch our tent, cook ourselves some tasty food and are fascinated by this sensational mountain backdrop.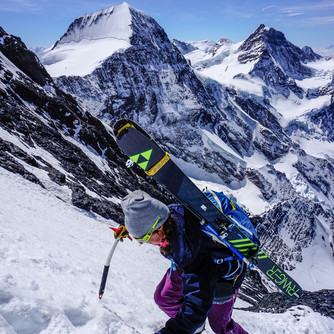 You can hear seracs falling now and again, the mountain is in motion all the time. We also watch a helicopter rescue operation on the summit of the Jungfrau. I ask myself what the mountain climbers were still doing on the summit at 7 in the evening. We set off early the next day. We only have the skins on for a short time and then we have to fasten the skis on our backpacks and continue with crampons when it gets too steep. Except for one speed ski tourer and two other young Swiss we are all alone as we make our way. The giant serac we have to pass under is impressive and scary at the same time. Because if something were to break off it, we would be in the direct firing line.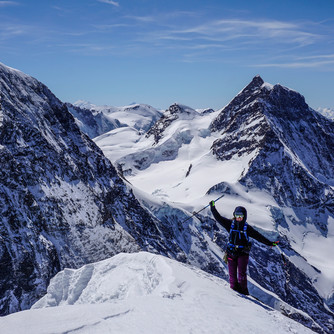 We make good progress and are now in the top third of the face. Around 45 to maximum 50 degrees steep. We have to wind our way through rocky terrain in parts, regrettably there isn't too much snow here, but it should be enough for the downhill ride. The icy wind blows in our faces as we are just a few vertical meters away from the summit. This is where we leave our skis, too, as there is not enough snow in the area of the summit to ride down from the very top. Job done! We're standing on the top of the Eiger! We only spend a few moments on the summit because of the bitterly cold wind.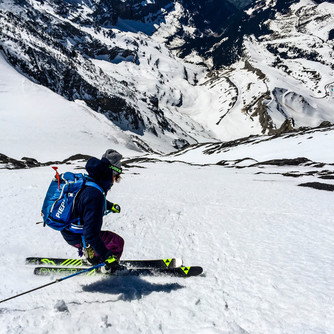 The brief view deep into the north face of the Eiger is impressive. In 1938 a German-Austrian four-person rope team managed the first ascent in three days. These days, top alpinists climb the north face – whose climbing routes rank among the longest and the most demanding of the Alps – within a matter of hours. We climb down a little from the ski depot so we can put on the skis. In spring, timing is critical for the downhill. Due to the strong wind and cold temperatures the firn is late. This means we now have perfect conditions for the downhill ride. In the upper part we have to make our way through the rocky terrain and then the downhill ride is sheer enjoyment from start to finish.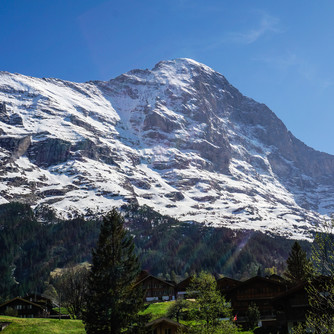 We have now accomplished just under 1700 vertical meters of climb followed by a downhill. As soon as we return to our bivouac we reward ourselves with a small refreshment. We look back in awe and are delighted about the successful descent. We carry on skiing to Kleine Scheidegg and then the train takes us back to Grindelwald again where we reward ourselves with a traditional cold platter. What a day! One that I will certainly never forget…
Text & photos: Melissa Presslaber